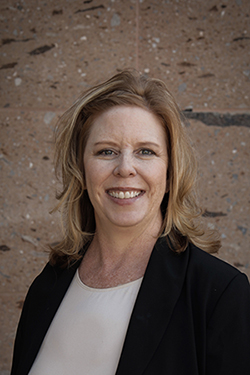 Tracey Guzman,
Office Administrator
I have worked at NRC since 1998. I started as a back office chiropractic assistant, worked the front desk and then moved into management. I love chiropractic and how it helps people feel better. A lot of our symptoms come from pain from our spine being out of alignment and with chiropractic adjustments, we can feel better without masking the pain with meds. I also believe in keeping your spine maintained for overall wellness just as you get your teeth cleaned. The doctors and Team at NRC really are awesome, ethical and truly care about patients.
When I am not at work, I love to spend time with my husband, kids, mom, friends, and dogs. I have 2 grandchildren that I adore and love to spend time with! Being a grandma (Nama) is awesome! I also love to play golf and sew!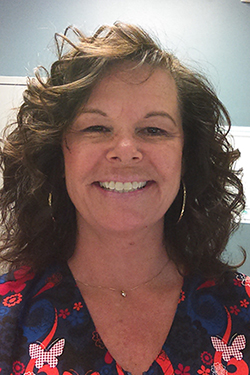 Michelle Bearfield,
Billing
I have worked in chiropractic's for 13 years and have been with Nevada Rehabilitation Centers for 10 ½ of those years. I am very lucky to be with Nevada Rehab Centers because we do have the best doctors and are probably one of the very few ethical practices left in Las Vegas by far.
I believe in chiropractics and the benefits and healing it promotes.
NorthWest/Summerlin Location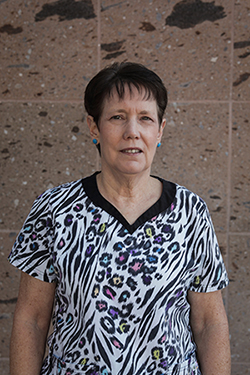 Linda Little,
Medical Records/Receptionist
I have worked for Nevada Rehabilitation Centers for over 11 years. It is wonderful to work with great doctors who have high ethical standards. Chiropractic treatment has helped me over the years in general and with some of my health issues. I love reading and spending time with my grandchildren.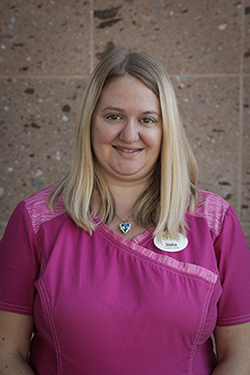 Jessica McKelvey,
Chiropractic Assistant
I have worked at NRC since 2016. I love how Chiropractic helps heal the whole body by assisting the nervous system to function correctly. I had allergies in High School until I started to get Chiropractic adjustments. Now I'm allergy free! I love spending time with my wonderful husband and two sons and watching my favorite TV series.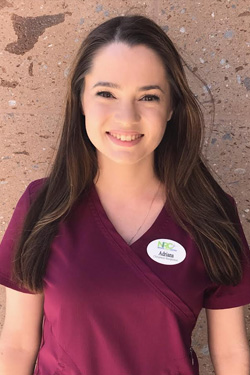 Adriana
Hi! I'm Adriana! I am new to the NRC family. I have a bachelor's degree in Kinesiology from UNLV and I have a passion for helping people feel better and educating people about their bodies. It brings me so much joy to watch all of our patients come in with aches and pains from the wear and tear of daily life and leave feeling better. In my spare time I like to spend time with my family and boyfriend. I like wearing crazy socks and love to laugh. I'm so proud to be a part of this team and I am so thankful to have the opportunity to be here.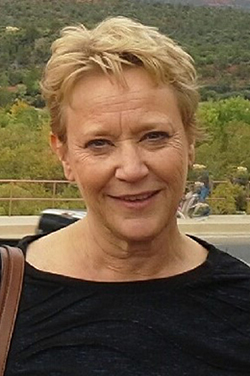 Terri DiGregorio,
Massage Therapist NVMT.1251
I have been massaging for over 28 years and have been working with Nevada Rehab Centers for over 10 years. I have a true love for massage and the benefits of its healing abilities. Some of my techniques include deep tissue, Swedish, aromatherapy, sports injury, auto accident injury, trigger point and myofascial release. I enjoy spending time with my family, and my chiropractic family loves my cupcakes!
Green Valley Location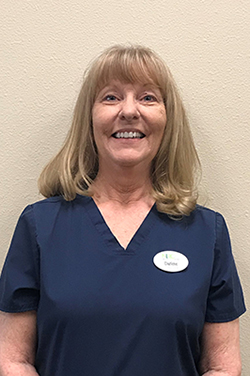 Darlene Dudley,
Chiropractic Assistant
Darlene Dudley is a licensed Chiropractic Assistant in Nevada since 1989. Her duties include assisting the Doctor with Physical Therapy Modalities and also assisting patients with their education of Chiropractic care. Her duties also include running the front office to maintain an efficient area for Doctor and especially the patient needs. She was first introduced to Chiropractic care herself, when pregnant with her first child. Due to back pain from pregnancy and other injuries over the years, Darlene knows the importance of maintaining spinal alignment as the foundation of health, along with the proper nutrition.
Prior to the Chiropractic field, Darlene was a Certified Cardiopulmonary Technologist in Iowa and Cardiology Technician in Nevada. She has always enjoyed helping people with their health needs.
Darlene is a very family oriented individual with her husband, 3 grown children, and 6 grandchildren keeping her life very happy and very busy.
Karen Acosta,
Chiropractic Assistant in Training
Hi, I'm Karen! I am new to working in chiropractic and I am loving it! I love seeing our patients smile when leaving our office! Ever since I started getting spinal adjustments I feel more energy! I also know the importance of getting adjusted to maintain my overall health! It is not just for back pain! We are a united Team and I love my Nevada Rehab family!
East Location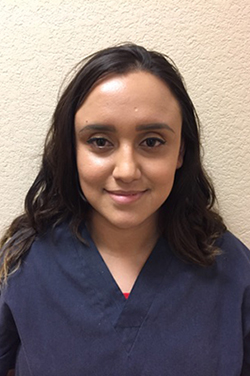 Jessica Juarez,
Chiropractic Assistant
I have worked as a chiropractic assistant for NRC since March 2014, I like how chiropractic care helps and improves health in a natural way and how it helps with many different health problems. It has also helped me understand the functions of how the body works and focuses on maintaining health wellness naturally by giving my body the opportunity to heal through corrective care. In my spare time, I enjoy DIY projects, reading, watching movies and listening to music. I enjoy spending time with family and friends and creating new memories.